Description
INSTANT DOWNLOAD!
Original website: https://www.mql5.com/en/market/product/66925?source=Unknown

Original price: $30.00
Your price: $9.00   91% OFF Retail!
Content: Expert: BlueDreams V8.4.ex4 (Unlocked), DLL: msimg32.dll, NO MANUAL.
MT4 Build 1350.
BlueDreams EA v8.4
BlueDreams is a grid expert that will scalp specific highs and lows in price.
The advisor views the market in depth using a mixture of price information and custom indicators analysing from multiple timeframes to determine calculated entry points.
It operates a dynamic grid function able to change its pipstep distance depending on past and current market dynamics.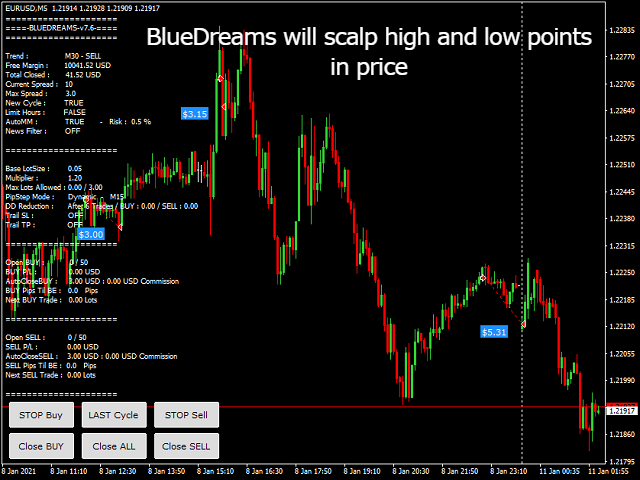 Key Features
Aiming to capture highs to sell in a confirmed downtrend and lows to buy in a confirmed uptrend.
EA will only take orders in the direction of the higher timeframe (Trend_TimeFrame) defined by the user. – Higher timeframe trend is displayed in the top left of the trade panel.
Uses a dynamic grid that can be turned on or off to create a single trade expert.
Multiple ways to manage and close out trades.
Wide Spread & Slippage protection.
Equity alerts and limits – EA is able to cut trades at a desired input equity drawdown amount and stop trading.
Optional News filter.
Optional Day/Time Limit.
Optional Dynamic pipstep methods.
Optional Drawdown reduction function.
Recommendations
 Pairs : EURUSD, GBPUSD, USDCHF, USDCAD, AUDUSD, EURAUD, EURGBP.
 Timeframe : 5M – Using my set file.
 Account : A reliable ECN broker will provide the best performance using a minimum of 1:300 leverage and $1500 per pair.
I recommend to set the news filter to true in live market to filter out hard/NFP news events.
Input Definitions
Magic Number – Number the EA uses to associate trades with itself.
Order Comment – The displayed text on each trade taken by the expert.
Use Grid – When true the EA will place grid orders.
Trend Timeframe – Timeframe the EA views for direction information.
Dynamic Step Timeframe – The timeframe the EA uses to dynamically space orders.
PipStep Method – Mode for the EA to space orders.
ATR Period – Period for the ATR indicator.
BB Period – Period for the Bollinger Band indicator.
IF_Fixed Pipstep – The amount of pips to space orders by when using a fixed pipstep method.
        Alerts & Limits
Max Spread – Max spread allowed to place a trade.
Max Slippage – Max slippage allowed.
Max Lot Size Allowed
Max Buy & Sell Trades Allowed.
Close Trades If Equity Drops Below – Close all open trades and stop trading if Account Equity drops below the number in the input.
Use Time Limit 
Start Hour – If Use_Time_Limit is true, the EA will look for trades from this hour.
Stop Hour – If Use_Time_Limit is true, the EA will stop looking for trades at this hour.
Trade Friday 
Trade Monday
      Risk 
Base LotSize – The first trade placed.
Multiplier – Amount to multiply the previous trade by.
Auto Money Management – When true the EA will automatically adjust the lot size.
MM (1=0.01Lots/$1000) – 1 in the input is equal to 0.01 per $1000.
Stop Loss – In pips.
Take Profit – In pips.
      Close Options
Use Trail Take Profit
Use Trailing Stop
Trail Start From
Move Trail Stop To
Trail Step
     Auto Close In Profit
AutoClose In Profit – When true, the expert will automatically close out trades when the input amount is reached.
After How Many Trades – After how many trades does the function take effect.
AutoClose Mode – How the expert auto closes its profit , either a total pips or profit (money) amount.
IF_Profit – If profit is selected in the input above, how much profit will the expert look for to exit grids/trades.
IF_Pips –  If pips is selected in the input above, how many pips will the expert look for to exit grids/trades.
     Drawdown Reduction
Use DD Reduction – Set to true will turn on drawdown reduction and use the method in the input below.
Reduce Method – BE first and last will look to breakeven on the first placed and latest placed trade in a formed grid, to free up margin and keep the overall grid smaller.
BE First & Last After – Once the number in this input is reached the EA will begin the function.
     Chart Properties 
Modify Chart Properties – On start the expert will set up the current chart with the settings below.
Background
Foreground
Bull Candle
Bear Candle
Draw Line – The expert will draw a line at the breakeven point for trades.
BE Line – Color for the BE line.
Show On Chart Panel – Displays account/EA information on chart.
On Chart Text – Color for the on chart text.
Note:  Products using the custom DLL "msimg32.dll", most antivirus's may block it and flag it as a virus. You need to make your antivirus "allow it"  as it is a false alarm and its SAFE.  This false alarm is triggered because this is a custom DLL. and not verified to any publisher but needed to make this product unlocked.