Description
INSTANT DOWNLOAD!
Original website: https://www.mql5.com/en/market/product/63763?source=Unknown
Original price:  $159.00
Your price:  $7.00    96% OFF Retail!
Content: Expert: Gold Stallion.ex4 (Unlocked), DLL: msimg32.dll, NO MANUAL.
MT4 Build 1340.
Gold Stallion v3.3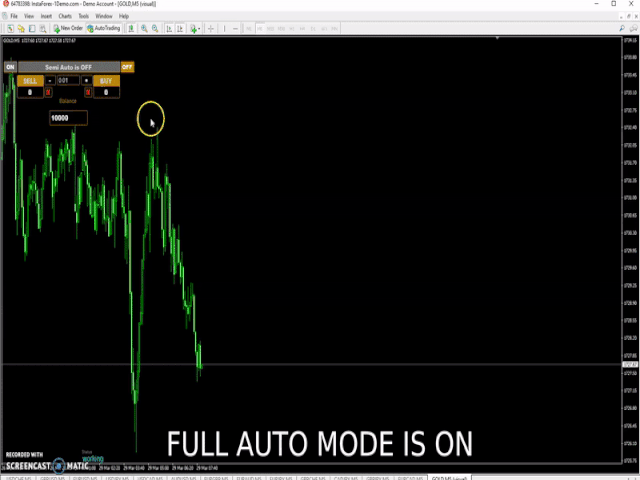 GOLD STALLION uses artificial intelligence to produce as better as it can entries in GOLD.it will produce quality trades,so they will not be so frequent.For MORE  FREQUENCY please USE second strategy with 20 value or SEMI AUTO.
The EA uses  all Time Frames to find the best entry.
After that ,an intelligent algorithm starts to manage the trade by producing three more same lot sized AND continues by increasing them IF YOU WANT.
Two different types of TP strategies are used based on the number of trades AND AN INTELLIGENT OVERLAPPING SYSTEM to reduce the DD !!!
■ SEMI AUTO MODE : click the ON button.
WITH THIS FUNCTION the user will DECIDE WHEN THE FIRST TRADE WILL BE OPENED by using the buy or sell buttons of the EA's panel.
AFTER the first trade,the EA WILL MANAGE THE REST !!!
■ HOW TO TEST:
All my neural network EAs use enormous amount of conditions,therefore the test in ticks is very slow.
Therefore i have added an input called:
'Set to 5000 for non VISUAL TESTING'
You must set it to 5000 to test the EA faster non visually and without the SEMI AUTO.
FOR testing SEMI AUTO and Visually :
You can use control points testing method for faster execution .Use this option in visualization in order to see how the EA operates in SEMI AUTO.
-DO NOT CHANGE THE input for Non Visual testing.(this input must be with 1 value)
■ WHAT YOU MUST NOT DO IF YOU PURCHASE THE EA:
1.Do not place other indicators in same chart.
2.Do not tile the windows.
RECOMMENDATIONS:
SECOND STRATEGY AT 80 for safe trading, decrease it at 70-60-50-40-30-20 for more trades.

INPUTS:
LotsInit:The lot size if we choose to open the trade from trading panel.
LotsAdd:How much we want to increase the value of the init lot by using the + and – buttons.
Starting Lot:The Starting lot size of the auto mode.
Set to 1 for Flat lot:This is the Multiplier .If you do not want the EA to multilpy the size,please set it to 1.
Max Lot Martingale:The max lot size a position can reach.
Distance in pips between trades:The minimum distance between the trades,AFTER THE FOURTH TRADE.
One strategy min profit in money:The minimum profit in money count for the 1st strategy.
Both Strategies min:The min profit in money count when the EA uses both of its strategies.
TP in pips for ONLY first position open:TP in pips only for the first position.
Hard TP for difficult Periods in pips:This option is used only if the EA can not close positions with other TP strategies and uses Bollinger bands to close them IF the TP in pips is met.
Overlap AFTER X trades(The first four do not count):After how many positions (after the first 4) you want the EA to enable the overlap system.
SECOND STRATEGY needs value 80 to 20 to work:A second strategy added for more trades.SET VALUE TO 80-70-60-50-40-30-20 for enable it!
DISABLE IT WITH 9999
■ THE LOWER, THE MORE TRADES IT WILL PRODUCE and also the riskier.
Aggressiveness of SECOND strategy with values 3 to 1.(1 is the most aggressive)

I do not recommend aggressive at 1 if account is lower than 5000$
Note:  Products using the custom DLL "msimg32.dll", most antivirus's may block it and flag it as a virus. You need to make your antivirus "allow it"  as it is a false alarm and its SAFE.  This false alarm is triggered because this is a custom DLL. and not verified to any publisher but needed to make this product unlocked.
If you already have above MT4 build 1340, you can downgrade and stop the auto update using the steps below in this download: Download and install MT4 Build 1340: MT4 Build 1340 Download