Description
INSTANT DOWNLOAD!
Original website: https://www.mql5.com/en/market/product/72119?source=Unknown
Original price:  $299.00
Your price:  $9.00    97% OFF Retail!
Content: Expert: Hunting Cat Scalper v1.0.ex4 (Unlocked), DLL: msimg32.dll, NO MANUAL.
Hunting Cat Scalper v1.0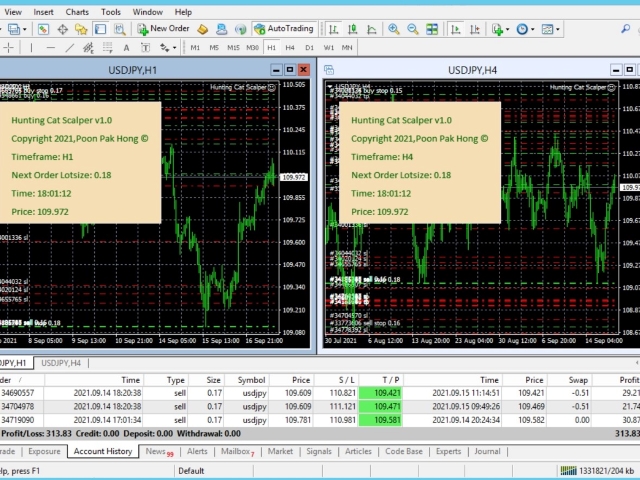 Hunting Cat Scalper is a fully automated trading robot on mainly USDJPY. It well identifies potential breakout levels in certain price patterns and then trades along with the breakouts.
Main Features
Identifies breakout levels in price patterns
Resistant to high ping environment
Calculated hedging mechanism (Set B)
Pending orders to minimize slippage
No risky strategies e.g. grid or martingale
Strict stoploss on every order
Survived long term backtest of 99.9% modality
No overfitting
Requirements 
Hedging account
Low spread raw ECN broker
Currency base: no limit

Autolot calculation based on USD
Adjust autolot risk level according to the exchange rate if you use other currency

Minimum recommended deposit: Depends on your risk level (see below)
Recommended Sets
Two very different strategies are derived from the same EA
Recommended to run Set A & B in separate accounts
Set A

Currency pairs: USDJPY(main), EURUSD, GBPUSD, USDCAD
Timeframe: M30
Settings:

USDJPY: Default set file
Other Currencies: Set file attached in "Comment" section

Lotsize per 0.01lot:

Low risk-350; Moderate risk-250; High risk-150

Set B

Currency pair: USDJPY
Timeframe: H1 & H4
Settings:

Either H1 Set1(conservative entry) OR H1 Set2 (aggressive entry)
And H4 set

Lotsize per 0.01lot: (manual lot recommended)

Low risk-550; Moderate risk-400; High risk-250
Input parameters 
How to Setup 
Download the EA on your MT4 terminal
Download the additional set files from the #1 comment in the "Comment" section
Open the chart of the corresponding currency with the right timeframe
Drag the EA onto the chart and load the corresponding set files
Choose your own lotsize settings and risk level
Allow autotrading
Disclaimer 
Backtest result is based on historical data which does not guarantee future performance and profit
Trade with an amount and a risk level you feel comfortable with
Start with a demo account to understand the EA mechanism first
A good ECN broker with low spread is essential. Message me if you don't have one
Note:  Products using the custom DLL "msimg32.dll", most antivirus's may block it and flag it as a virus. You need to make your antivirus "allow it"  as it is a false alarm and its SAFE.  This false alarm is triggered because this is a custom DLL. and not verified to any publisher but needed to make this product unlocked.