Description
INSTANT DOWNLOAD!
Original website: https://www.mql5.com/en/market/product/66358?source=Unknown
Original price: $899.00
Your price: $9.00    99% OFF Retail!
Content: Expert: Night Hunter Pro-4.97.ex4 (Unlocked), Presets: BestPairs.set, NHP_Extreme.set, NightHunter_FTMO_10_MaxDD_Swing.set, NightHunter_FTMO_10_Per_Month_Swing.set, DLL: msimg32.dll, NO MANUAL.
Night Hunter Pro v4.97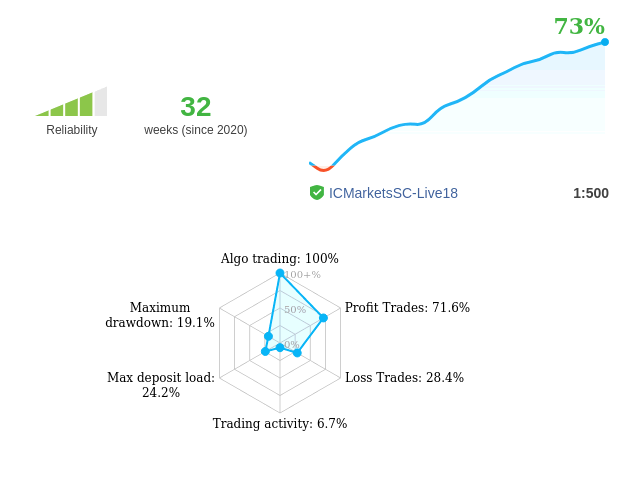 Night Hunter Pro is the advanced scalping system which utilizes smart entry/exit algorithms with sophisticated filtering methods to identify only the safest entry points during calm periods of the market. This system is focused on a long-term stable growth. It is a professional tool developed by me years ago that is constantly updated, incorporating all the latest innovations in the trading area. Nothing fancy here, no testing Holy Grails, no "risk-free martingale", only strict rule-based approach to trading, allowing to maximize return while having risks under control
Supported currency pairs: GBPUSD, EURUSD, EURCHF, USDCAD, USDCHF + CHFJPY, AUDCAD, EURCAD, EURAUD

Recommended timeframe: M5
The EA does not use martingale or grid. It only enters a trade with pending orders and uses a stop loss for each trade!
Features:
One Chart Setup: you only need one chart to trade all symbols
Multiple currency pairs support
Solid backtest and live performance
Advanced News Filter
Auto GMT detection
Self Diagnostic System
Negative Swap Filter
Friday Exit System

Backtests should be done with Tick Data Suite GMT+2 with US DST. This GMT offset is used by most brokers.
How to install:
The EA must be attached to ONLY one M5 chart, EURUSD is recommended
If your broker uses a suffix (e.g. EURUSD.a) you should update names in the Symbol parameter

Use recommended pairs only. You don't need .set files, all settings are stored internally in the EA
Please allow web requests to the following URLs for news filter and GMT detection (delete spaces!):

http: //ec.forexprostools.com
https: //www. worldtimeserver.com
Requirements:
The EA requires good brokerage conditions: low spread and slippage during the rollover time. I advise using a really good ECN broker. Write me personally for advice
The EA should run on a VPS continuously
Settings:
Allow Opening a new Trade – on/off opening of new trades
Lot-sizing Method – select the lot sizing method according to the risk you want to take: Fixed Lots will use fixed lot size from the "Fixed lot" parameter, Dynamic Lots will use Dynamic Lot parameter, Max Risk per Trade will calculate lots based on % risk per trade, and 3 predefined presets will calculate risk automatically for you
Fixed Lot – fixed trading lot
Dynamic Lot – balance/equity to be used per 0.01 lot
Maximum Lot – max allowed trading lot
Maximum Spread, in pips – maximal allowed spread for position closing
Maximum Slippage for a non-ECN acc, in pips – max allowed slippage
Maximum Symbols at a time – max allowed number of symbols that can be opened at the same time
Allow to Buy/Sell – on/off Buy/Sell trades
Maximum Drawdown Percent – if current floating drawdown exceeds the specified % the EA will close open positions.
Strategy:
Symbols separated by comma – list of pairs to trade. Suffix needs to be included if your broker uses one!
Hour to Start/Stop Placing Orders – when to start/stop placing pending orders. Set Smart Time Filter to false if you want to optimize these parameters
Smart Time Filter – on/off smart time filter
Hour to Stop Trading (on Friday) – hour to stop trading (on Friday). All open positions will be closed at this hour
New Year Holiday Filter – on/off Christmas/New Year filter
StopLoss, in pips – stop loss value in standard 4 digit pips
Hide StopLoss – on/off SL hiding
Rollover Time Filter – on/off the rollover filter
Swap Filter – cancels trading on Wednesday evening in the direction of the negative swap
Max Negative Swap, in pips – max negative swap
News Filter Enabled – on/off News Filter
Wait Minutes Before/After Event – suspend trading before/after the news
Others
Trade Comment – comment
UID (0…9) – unique EA instance number. Usually no need to change it
ShowPanel –  on/off Info-panel
GMT/DST Test – GMT offset in winter and DST in Tester. This parameter has no effect on live trading
Note:  Products using the custom DLL "msimg32.dll", most antivirus's may block it and flag it as a virus. You need to make your antivirus "allow it"  as it is a false alarm and its SAFE.  This false alarm is triggered because this is a custom DLL. and not verified to any publisher but needed to make this product unlocked.